It's difficult to choose between a longbow vs recurve bow. This two is most famous bows like of all times.
At one side we have Longbow, a bow that showed its worth from ice age hunters to medieval soldiers.
On another, we have Recurve bow, a bow that has its reputation for power and smoothness.
Both of these have their advantages and the right choice will take your hunting skills to a new level.
Here we have critically analyzed the ability of these bows.
We took the opinions of both practical users and theoretical masterminds. We have sorted out crucial determining factors from the opinions and presented those to you in a digestible way with some recommendations.
So, without delay shoot right into this article.
What Is A Longbow?
Oldest bow type in the history of archery. Oldest means, you can tell it the very first bow. Anthropologists have found one longbow in Europe that was used in Paleolithic age.
But in the early age of longbow, the only sharp head stick was used. Later stone made tip then iron and so on the changes happened. You may now guess the evolution of a longbow.
Nowadays, there is a lot of bow types available.  This is the evolution of longbow. Still, it is an effective hunting tool.
The Parts of a Longbow –
Traditional longbow is not complicated than a modern bow. A longbow consists of 5 parts.
Nothing but a single piece of wood is used to make a longbow. The prime criteria of a longbow is, it's long. So, A long, minimum 1.2-meter wood is needed. The job is to make the wood into a bow shape. If you use a dry wood then it could take a few hours to get the desired shape.
You may be noticed that traditional longbow doesn't have an arrow rest. But nowadays, some bowyer attaches arrow rest on a longbow.
Simply a bowstring and wood is the main ingredient of a longbow recipe.
Best longbows – Top 3 Pick
However, to make that easy, I'm going to review 3 best longbows in the below section. Read to get knowledge about the features and specification of a longbow-
 1. 

SAS Pioneer Traditional Wood Longbow

Two types of wood- Makore and Cassia Siamea is used to make this 68-inch longbow. Makore and Cassia Siamea is well-known for their Stability. Let's have an insider deeper look of this SAS pioneer traditional wood longbow review.

Other than this, maple leaf lamination strong fiberglass limb is provided by the manufacturer southland archery supply. That is for ensuring the reliability of the bow.

No matter what size of your hand is, the leather grip can fit well. SAS Pioneer traditional longbow is designed to fit a small or large hand. The grip is comfortable enough too. You can tell it universal grip. Sas pioneer traditional longbow is the best longbow for the money for its a cheap price.

When it comes to the performance, two things come up in mind-
Accuracy
Draw weight
In this regard, the top-quality material and the design ensure its accuracy. Another one the draw weight- depends on which version you are choosing. You will get at least 50 lbs. of draw weight with a standard arrow. Enough to kill a medium-size animal.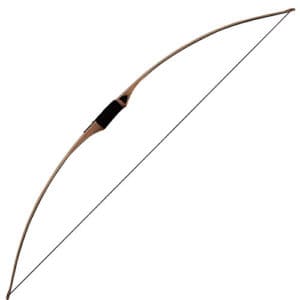 I can assure you that you will get a new level of experience with this longbow. And will increase your performance day by day
Pros
The high-quality material ensures its Longevity.
The leather grip fits with all sizes hand.
Great Price-quality ratio.
Tools free assemble makes it user-friendly.
Cons
Only for the right-handed people model available.
 2. 

Martin Archery Savannah Stealth Longbow

It is not the traditional one. The riser and the limbs of this modern longbow's are made of Bubinga wood with maple laminated highlights. Black fiberglass at the tip and clear glass at the top makes it more appealing. Let's have an insider deeper look of this martin archery savannah stealth longbow review.

Its reflexive design helps to eliminate hand shock while drawing an arrow. Which is a common issue for most of the longbow? So, shooting with the bow is now more comfortable and easier than ever. Also, this longbow comes from the famous provider by Martin Archery.

The flemish bowstring is famous for giving a great speed of the arrow with accuracy. And thanks to its manufacturer to add this bowstring.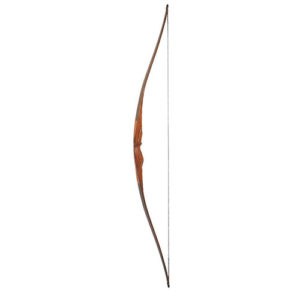 The brace height is 6.5-7.5 inches with 64 inches AMO string can draw weight of 40 to 65 lbs. the total weight of this bow is 1lb 7 oz. literally an ideal bow for a hunter. That's why this is the best longbow for hunting.
With all the combination you will get super arrow speed as well as accuracy. So, why not this bow if you are a bow hunter?
Pros
Last longer time.
Flemish bowstring for super arrow speed and strength.
Visual design is attractive.
Eliminate hand shock.
Stealth design. So, no noise issue found.
Cons
Pricey product. But it worth the money because of its material quality.
It is a handmade bow. Sometimes the product may not available. That time you have to wait for a longer time.
 3. 

OMP Sierra Longbow

Another longbow from October Mountain Products to consider for your bow collection. Let's have an insider deeper look of this omp sierra longbow review.

68 inches longbow that can produce 40 to 65 draw weight. Ideal brace height 6.5-7.5 inches. Whether you are a hunter or target shooter you can use this multipurpose longbow.

Handpicked walnut and hard maple wood ensure its durability and ease of use. Fiberglass made limbs and reinforced tips to ensure its performance.

Fast flight string is not compatible with all kinds of the bow. The bow should be maintained certain criteria to cope up with fast flight string. The manufacturer maintains that law. and the result is a powerful longbow. OMP mountain man sierra longbow is the best longbow for beginners.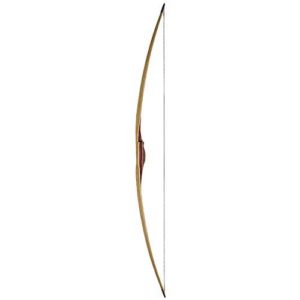 Elegant design yet high performing longbow maintains its class by the material and also the price-quality ratio.
Pros
Fast flight string makes it faster and powerful.
Amazing price-quality ratio
Visual appearance is elegant
The arrow self is built-in
Both the right-hand and left-hand model available.
Durable and accuracy are the key point of this longbow.
Cons
The bowstring is a little bit long for short people.
What Is A Recurve Bow?
A bow that curves away after shooting an arrow is known for recurve bow. Modern recurve bow is mainly created for war back in the Mongolian period. That time the warrior uses the horse to fight and shot the arrows from the horse is difficult with other kinds of bow. So, there is the necessity of a bow that is short and can be used by both sides. The result is the recurve bow.
Nowadays, recurve bow is used for hunting and shooting practice purposes only.
Parts of a Recurve Bow
A little bit complicated in design rather than a longbow. A modern recurve bow has 13 major parts-
Riser
Riser Grip
Limbs
Sight
Stabilizer System
V-bar
Clicker
Plunger
Arrows Rest
Bowstring
Bowstring Serving
Nock
You may now understand that how much complicated the system is. Each of the parts is very important for a perfect shot. So, assembling them in the right way is important to get maximum output.
This is a perfect bow for beginner to use. For archery and sports, this type of bow is suitable to use.
Best Recurve Bow – Our Top 3 Pick
Now I am going to review 3 best recurve bows for understanding their uses and performance-
 1. 
Samick Sage Takedown Recurve Bow
Samick Sage Takedown Recurve bow is the best longbow for beginners. It is introduced to understanding bow and arrow for the entry level archer.
For that reason, this one is also budget-friendly too. Let's find what it offers-
Comes with pre-installed every necessary equipment (Brass Bushing, Stabilizer, Sight, and Quiver). So, the extra cost is not needed for bow kits.
This 62-inch recurve bow includes a B-50 bowstring and arrow rest. Hard maple and black fiberglass made limbs with a single tapered design knob. That makes it durable and easy to use.
Both right-hand and left-hand version available. Maximum draw length is 29 inches and a brace height of 7.25 inches to 8.25 inches recommended. This product comes from Archery Recurve Bows.

Overall, a top-notch starter bow that I can recommend. You will not regret to have this for sure. Though it is entry-level bow some modification can make it use for advanced archer.
Pros
Limbs are made with quality material.
Lightweight design
Complete set- arrow rest and string are included
The starter kit also comes with the package
Best for beginner and intermediate level bow
Cons
Better fit for taller people.
Have a short serving string that comes with the package.
 2. 

Southwest Archery Spyder XL Takedown Recurve Bow

Another beginner and intermediate level recurve bow from my list. Manufactured by Southwest Archery, a well-known archery producer. Let's have an insider deeper look of this southwest spyder xl review – 

Both left-hand and right-hand model available for this 64-inch recurves bow. Perfect draw weight 30-55 lbs. for hunting or sporting.

You will get a handicraft riser, 14 Strand Dracon string, matching limbs, arrow rest with the package.

The given rounded riser is smooth and you will feel nice in your hand. In this price range, an elegant design recurve bow is hard to find. I am thankful to the engineer that introduces this piece of art.

Though this is cheapest built quality is so good that you can compare this one with some pricey bow.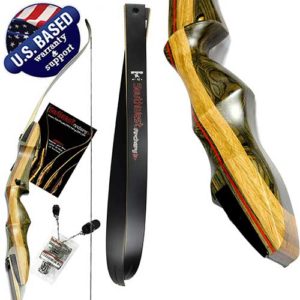 If you are an entry-level archer you should go for a lightweight recurve bow. And this one is lightweight to meet your preference.
Both hunting and sporting can be done with this bow. Southwest spyder xl is the best recurve bow for hunting.
Pros
Lightweight design but durable
Both hunting and target practice can be completed with this.
Comes with all the basic accessories
Available for both right-handed and left-handed people.
Cons
Some complaint that assembles is hefty. I would suggest going through the instruction that is provided with the package.
 3. 

SAS Spirit 62″ Take Down Recurve Bow

Are you trying to teach your kids archery? Southland Archery Supply SAS Spirit can fulfill your desire, I think. Why? Let's see –

Lightweight, so your child can easily hold this bow. Child's tends to use a product with less care. So, a durable product is a mandatory option. What if a bow made of strong fiberglass and maple lamination? You could now tell that durable enough to last. And yes, the manufacturer did this.

Chuglam, Gmelina Arborea and Becch these three kinds of wood are used to build the riser. It is flexible and will bend extremely but will not break. Other benefit of this recurve bow are much cheaper than other bows. That's why this is the best recurve bow for the money.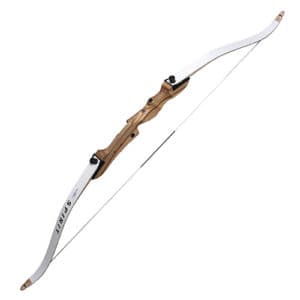 You will get a draw weight of 22lbs. to 34lbs. Pretty good for starter and hunting also.
But keep in mind that kids with 6 feet in height.
Pros
Both left-hand and right-hand version available
Decent draw weight for hunting
Great bow for learning the purpose
Cons
Not fit for over 5 feet 7 inches height of kids
Longbow/Recurve Bow Differences: Special Video Bonus
Frequently Asked Question
What kind of wood is used for a longbow?
It considered that Yew is best for a longbow. Elm can be used also.
What is a longbow used for?
Hunting is the prime purpose of using a longbow. But you can use it for sporting purposes also. That is not recommended though.
Is a recurve bow better than a longbow?
The purposes of those two are quite different. Longbow is for hunting and recurve bow is for sporting or practicing. But you can use your recurve bow for hunting purposes also.
How fast is a longbow and recurve bow?
The faster arrow can omit wind obstacles. A recurve bow can travel 150 miles/hour. On the other hand, the longbow is slower, because of its arrow weight. 90 meters/second approximately a longbow's arrow can travel.
Can a longbow pierce armor?
It depends on what is the material of the arrowhead is made of. If it is stainless steel made than a longbow arrow can produce a sufficient speed to penetrate armor.
How strong is a longbow?
Draw weight is the key factor. Higher draw weight stronger the longbow is. So, if you are looking for a stronger longbow the look for the draw weight capability of that longbow.
Is a recurve or compound bow better for beginners?
A compound bow is more professional. Easy to aim and has a strong string than a recurve bow. So, the draw weight is good enough. Whether a recurve is more user-friendly. Easy to maintain and stylish also. However, there are many beginners friendly recurve bows available. I think a recurve bow is way better for a beginner.
What is the heaviest draw weight on a bow?
It is Mark Stretton, he through an 82.5 cm long arrow back in 2014. The draw weight was 200lbs. It is the heaviest draw weight till now.
How much does a longbow weigh?
On average, a longbow is around 2 lbs. of weight. Longbow is longer than recurve bow and intended to hunt purpose. So, a lightweight one is easier to carry in the wood.
What are the three common types of bows?
Longbow, recurve bow and compound bow. These are commonly used today. The longbow is the oldest in regards to their invention.
Final verdict
Deciding from longbow vs recurve bow totally depends on your purpose of use. You may be now realized the facts between those.
If you are going to hunt with a bow then I will suggest you go with a longbow.
"You have to relax when you're shooting an arrow. You can't be tense. And that just helps, in your day-to-day life."
-Stephen Amell