Look before you leap. One of the most convenient words that we have heard enough. Also goes for the rifle shoot. Make a better catch with a better look.
But is it as easy as it has been spoken? Obviously not! To set the target perfectly you will need rifle scopes. You must know that! But you have to know about types of rifle scopes before anything.
Let's see the details-
Basic knowledge about rifle scope
What is the basic function of a scope is the most important thing that you need to know now? Because more clear view about a scope will let you choose the best one for you. Let's see them at a glance-
Magnification
The most important thing is to zoom out and zoom in through a scope that you can get at first. You have to look through the scope and choose to select the target very carefully. And via this function, you can get a clear view.
How you can understand that how much you can magnify?
You will see in the body that are written 3x-6x. This means the lower level for magnification is 3 and the highest level power is 6. It can be single power magnification like 5x. This means you can zoom in or out.
And there are also some scopes that don't carry magnification function. There you may find 1x power.
Objective lens
If you are using a higher magnification rifle scope, you will get a higher objective lens. The higher objective lens will help you to magnify the scope to see the target perfectly. If the length of the objective lens is higher, more light will enter into the scope. And that's why in low light higher length of objective lens matters.
Coating
You can find the coated lens to provide a better view of the target without any other glare or other light source disturbance. You need to check whether the lens is fully coated, multi-coated, or only a single coated. Fully multi-coated lens's price is a bit high.
Reticle
It seems like only a cross-type but actually, through the scope, you will see this. And you will select where to target the gun. For any long-range shooting, this is must use.
Field of view
In summary, the left to right how much you can see is your field of view. The relation between magnification and field of view is the opposite. If one increases, others will become less.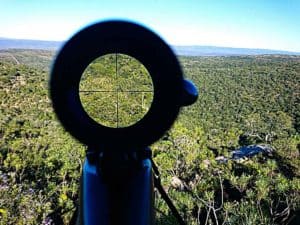 Choose the scope according to your purpose
First thing first, you should be sure about the purpose of your scope before buying one. There won't happen any good thing if you buy the scope for hunting but use for home defense.
The primary reasons for scope are-
Self-defense
Shooting
Hunting
Long range shooting
Like for tactical shooting, you have to choose a much strong, which can beat at any incident like water, shock or fog. And for home defense speed is the main thing that can be your concern. And red dot scopes do best in this case.
And if I tell you about the hunting rifle, where the scope should also be like free from fog and shock and along with it should have low light performance. For hunting, it is common that you ought to shoot after the sunset. And it is must to have coated glass for the long-range shooting.
Choose exact magnification
You have to choose the exact magnification for your rifle. As between 10x is perfect for any target. But 12-20x magnification isn't suitable for hunting. Only spending money won't give you the best result. This high magnification is suitable for very long-range shooting. So, be careful when choosing scope according to the magnification.
Better to choose the fixed range
If you are a novice and you want to start basic hunting, it will better for you to choose a fixed range scope. You can take this statement as a suggestion from me. With the fixed 4x range scope you can shoot better without any problem. So, better to take a fixed range. And the price of the fixed will be also very low considering the variable range scope. But as you don't need a variable range, don't waste your money.
Higher eye relief
Eye-relief means how much distance you can see everything through the scope. The normal distance is 4 inch. But it is better to check always before buying. Better eye relief will help you to target precisely.
How to choose a rifle scopes
Different types of rifle scopes
There are different types of rifle scopes that you can buy. Let's have a look at those types-
Open sights
In the open sight rifle scopes, you have to match two sights to aim a target perfectly. You will find the front sight as a projection and the rear is similar like V otherwise U.
Aperture Sights
It is similar to the open sight but you have to match the rearview with the front view. But here the rear sight is like a ring. And the ring should have to match with the front sight.
Red Dot
The red dot on sights stays on the reticle. It doesn't vanish. You can target through the red dot.
Laser Sights
It simply projects a laser on the target body. It can be seen by open eyes. So, it is very easy to detect as well as to target.
Conclusion
These were my words according to the rifle scopes. You know now how to choose the perfect one from different types of rifle scopes. Always stay careful when you will buy one.
Don't put money without considering anything. Choose according to your purpose. That will be enough to check!!
You can read this article if you want to know that how to mount on rimfire scopes.