As an Amazon Associate I earn from qualifying purchases.
Next to deer hunting the most popular hunting animal is the coyote. However, it's not killed for the sake of meat. The main purpose behind its hunt is population control. Hunters who kill coyotes mainly believe that they do so to save their livestock. Its hunting is legal in the US, Canada. Landowners in Alberta or different states of the US mostly kill them as they can hurt their livestock.
Coyote hunting guide offers the ultimate solution to all of your hunting woes related to coyote's hunt. It is a comprehensive set of instructions from start to end. It tells you where to locate coyotes, how to track them, and how to kill them. It will also guide you on where to shoot this animal and how to use optic gears and advanced tools in its scouting.
This guide is designed by our expert hunter Ronald. Keep reading to read more!
Coyote Hunting Tips
Buddies, are you ready to target coyotes this time? Then Let's get started:
Locate Coyote Hunting Hotspots
As an experienced hunter, I'd not suggest traveling far off African countries to shoot a coyote. It would cost too much. You should start from nearby legal hunting grounds. Below is the list of coyote hunting hotspots:
Good news for hunters! You can hunt coyotes everywhere in the US and Canada. But few spots are rather more attractive for the hunter as listed below:
North America
Alberta
Texas
Arizona
Other hunting hotspots are
New York State
Maine
Brunswick
Mexico
If you own land in the above areas, you can shoot coyotes on your property.
How Much Does a Coyote Hunting Trip Cost?
Do you want to set off a hunting adventure with your friends? If yes, you should know the cost of a coyote hunt per hunter. It is 300-350$ per hunter per day. But often hunters don't hunt coyotes alone they go for combo trips. For this type of trip, they hunt fox, bobtail, and coyote. This trip will cost more than 1000$ per hunter.
The best tip here to enjoy this type of hunt near your hometown.
If you're interested in booking your hunting trip visit this site and plan your trip. While hunting on trips can provide better opportunities for freshers to learn from experienced hunters.
Factors To Consider Before Hunting Coyote
Are you ready for a coyote hunt now? Stop buddies, be patient. There are a few more factors to think about before packing. Read on the factors below to get full knowledge:
Best Hunting Time for Coyote
Being nocturnal, coyotes are easy to find at day time. Hunters may choose any time between dawn to dusk depending on weather and distance of the hunting area. Nowadays nighttime hunting is also getting very popular. For freshers, I would never suggest this adventure unless they have proper optic tools or hunting gear.
Best Hunting Month For Coyotes
Buddies you can hunt this animal throughout the year. No restriction! However, months or days may not affect your hunting journey as much as weather and wind could. So, never overthink about choosing the right month. Think more about choosing the right weather condition.
Best Hunting Weather For Coyotes
Coyotes are mostly non- active in scorching sunlight. They have a strong coat of fur that makes them heat up quickly in the sun. So they are more active in cooler temperature zones. If you are planning to hunt them check the temperature it should be 20-50 degrees Fahrenheit.
Best Wind Speed For Coyote Hunt
Hunters often ignore this factor but it's crucial to consider. Coyotes' strong sense of smell gets hyperactive in the strong wind. They will smell you and run away before you aim any shot. The wind speed of 0-5 mph is ideal. However, wind strength over 20mph is real trouble. It's better to stay home and wait to get wind speed to normal and then plan your hunting journey.
All  Steps To Hunt Coyote From Start To End
Where to start and when to end your hunting expedition? Considering the above factors you can plan your hunting trip. There is an easy step-by-step guide below that every hunter can follow easily.
Step 1- Preparation For Coyote Hunting
If we break the whole procedure into little parts, it will become rather easier for fresh hunters to understand the actual hunting game. Hunting coyotes is not just entering the hunting ground and killing the coyote and all is done. From preparation to success, there is a long way to go. Below are few tips to help out the hunters to prepare themselves for this type of hunting trip:
Check Hunting Rules of your State
Though for coyotes hunting there are not any hard and fast rules. Make sure to check any updates in the hunting rules of your state and then plan your trip accordingly.
Check Weather Forecast
If rain is predicted, it's better to postpone your hunting plan. Rain or snow will cause a low light factor. Chances of injuries are also high while hunting in rainfall. Hunters may slip or trap in muddy puddles.
Note Down Wind Speed
take a pocket-size anemometer with you if you're going to hunt in open areas. Note down the wind speed when you are near to hunting ground. If it's more than 20mph, apply scent blockers as coyote sense of smell is amazing.
Never Forget to Use Scent Blocker
Thanks to manufacturers who made such an amazing product for hunters. Never forget to apply scent blockers while before hunting. In this way, coyotes will not be able to smell you.
Get Enough Knowledge About Coyote
I always suggest hunters know your target animal well before your hunt. It's better to know everything about coyotes from its species, physical characters, sound, behavior, bedding areas, and even coyote poop before your feet touch the hunting ground. Knowledge about the target animal helps you to handle aggressive attacks and other risks during hunting. Here is a wide range of info in these articles. Pack yourself with knowledge and wisdom.
Pack Smartly For Coyote Hunting
The basic rule of hunting is don't take too many items with you. It will stop you from walking too far after the target animal. Always take the necessary items and pack your hunting bag smartly.
Necessary items in the hunting bag should include:
Optic gears
Food
Hunting gear
Communication Tools
Map of a hunting spot
Extra hunting costume
All preparation for the coyote hunting tour is done. Ask your hunter friend to accompany you on this trip. Don't forget to inform a reliable friend or relative about your departure time. In the case, if you don't arrive on time he will be responsible to take action.
Step 2- Find The Coyote
Now you're in the hunting ground. It may be the property of some public owner or forest. The first thing that you will do is track the coyote. They are extremely shy animals and will take no time to disappear once they see you.
Below are tips for tracking coyote:
Search Coyote Through Its Sound
Coyotes sound a distinctive howl though not much easier to recognize. but if you keep on pondering it, again and again, you can better understand the location of the coyote and it can help you to chase it. If you want to know in detail what coyotes sound like, don't forget to read this article and listen to the MP3 here.
Search Coyote Through Its Scat Or poop
Another sign of coyote presence is its scat. It may change its color when it dries up. What does coyote poop look like is a bonus article that you can read free here. So, don't forget to have a look at the identification tips of coyote scat given in this article in detail. It will help you to locate the coyotes without wasting time.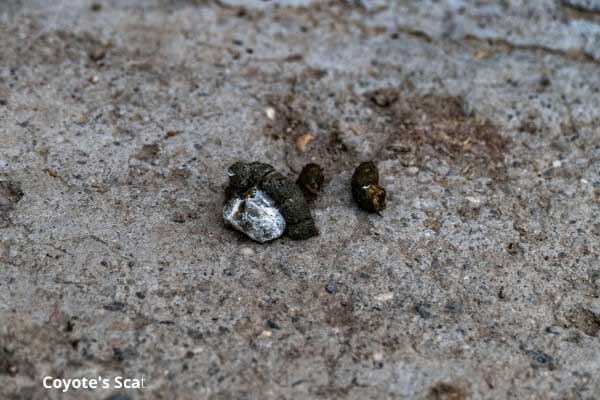 Search Coyote through Its Dropping Or Fur
Coyote sheds off in springtime. Its fur is the main sign of coyote presence. The hair is relatively thicker and golden brown in color. If you find such a shed off you can expect to encounter coyotes nearby.
Search Coyote near its Feeding Areas and foot marks
Coyotes are healthy eaters. They are omnivores but they sometimes behave like scavengers. Originally they are carnivores and love to eat small reptiles as well as rodents. It's better to search for coyotes near the leftover of the prey of big animals. You can also find them after rainfall when insects from the mud came out.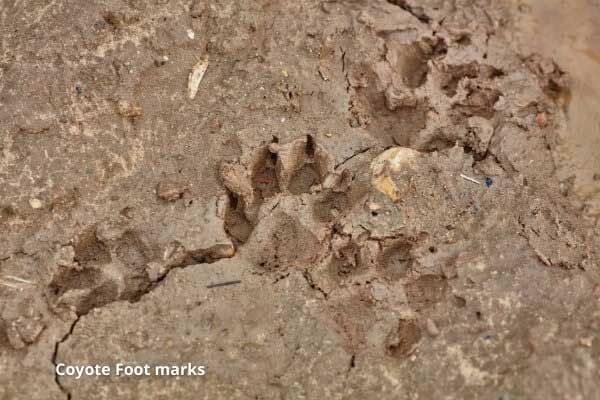 Attract Coyote through Coyote Call
For coyotes hunt you need to think beyond boundaries. Sometimes old tips of scouting coyotes will take days and days of struggle without any success. But if you adopt the latest hunting tactics of using Coyote calls you can attract them no more than one hour. To win coyote hunt honors your ways of scouting it should be equipped with the latest coyote calls or devices.
Inquire Local Farmers about coyote habitat
Remember coyotes are clever enough and they know the area well where they actually live. So, if you play coyote calls in the area where they are not inhibiting. YOu will get nothing. That's why I always inquire about local farmers about coyote favorite spots. Not all farmers hate them!
Step 3- Take A Shot Of Coyote
Now the coyote is in front of you! Wait, know the points below before taking a shot. At first, consider yourself to be at a safe distance.
Set Your Hunting Gears
After getting the sight of the coyote is to make yourself hide a bit and then set your hunting gears or rifle tripod or if you are a bow shooter shoulder up to your bows.
Take a Position
You should be right in the middle of the coyote's body. Your hunting tool should right face the belly under the front shoulder rather than the head or legs. If you hit at the legs you may just hurt the animal rather than killing. This injured animal will get more pain as it will run off with shots in the legs.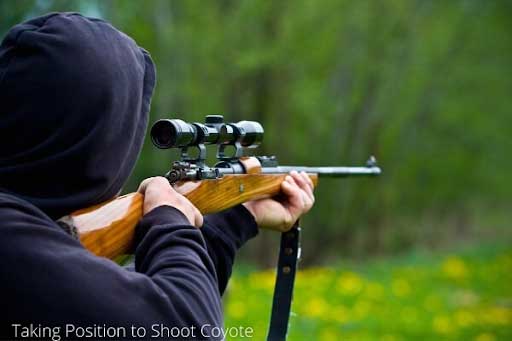 Use Optic Gears
Nowadays magnifiers, scopes, and rangefinders are widely used by hunters to accurately shoot. For freshers, I would always recommend getting the help of these hunting tools. But experienced hunters can go without using it. Before taking a shot position your gun right under the front shoulder.
Where to Shot
Coyotes are a bit different in physical characteristics from other mammals. The heart of a coyote is not located right in the middle of the chest cavity. It is located a little deep or forward in the chest cavity. If you want to make your target animal die with less pain you should take a shot of heart. In this way, it will take less time to die.
How to Shot
Shotting coyote while walking can be a big failure if you are a fresher. Calm down, set your gears, and take a shot with a lot more patience. It is rare to spot coyotes in the herd. It happens when they are eating the leftover of some animal's prey. Always take a shot while standing.
Step 4 – Thing to Do After Shooting Coyote
There are still a few steps to know. The hunting game is not yet over. So, read on the lines below to know the last steps to follow:
Never Rush up
Never rush up towards a killed animal unless it is dead fully. Make sure if it's dead or completely motionless then approach it.
Take a photograph
Take your photograph with your first hunt and enjoy honor in your hunting community.
Cut a Piece of fur Or Meat
Though eating coyote meat is rare. But if you want to take a part of its meat at home., cut it with a knife to bring home and leave the other parts therefor animals to treat.
Leave the place
Leave the place soon as animals will smell the blood and approach to eating the killed coyote. If they find you near the killed animal they can attack you.
Final Thoughts
That was all about hunting coyotes. In open areas, the most difficult step is to find them rather than killing. While on public property hunters often used different techniques to attract them. They spread their favorite food or sometimes install night cameras to track them. I would personally like to hunt coyotes once or twice a month.