Do you know that in each bluing process, you need to remove the old bluing? Yes! You have to put your effort not only bluing but also bluing and removing together.
Don't worry! Here, in my content, you will find how to remove gun bluing with a very easy and effective way. Also, I have shown here cheap way using vinegar only.
Let's have a look-
What do you need to know about blue?
Bluing is a process by which you can imply a layer of protection on any steel especially, to your gun. This will help you to run your gun for a longer time of period. Also, bluing will save your gun from rusting.
By applying a chemical reaction, a layer of magnetite is formed on the steel and thereby this layer acts as a protection against rust.
There are several techniques to apply blue on the gun but the common ones are hot bluing, cold bluing, and remove rust gun bluing.
Cold bluing and hot bluing is popular processes of bluing. Normally in your home, you can easily do bluing by using these two methods. For that reason, people prefer to apply these two methods in their homes.
In hot bluing, you have to use boil water to blue. You have to boil your gun in water for 20-25 minutes with a bluing solution. This will make a layer on the gun.
And if you ask about the cold bluing, you need to apply the blue solution directly. That's the difference between the hot and cold bluing.
There is another process named Parkerizing. It is also like the other processes of bluing. It helps to protect the gun from rust or corrosion. It puts a layer of protection on the gun by an electrochemical method. On your gun, there will be a grey matte finishing.
Why do you need to remove old bluing?
This is a pick question that why you need to remove the bluing? As you have to blue your gun again.
The fact is when you use your gun for a long time there will be a lot of dirt. There will also rust in someplace. And if you apply blue on the old blue, that won't get set properly on the dust and rust. And your target shouldn't be only removing blue. Because the process is included both for blue removing and clearing the metal of your gun.
What you will need?
You will need some items through the whole process to remove gun bluing at home. Let's see them-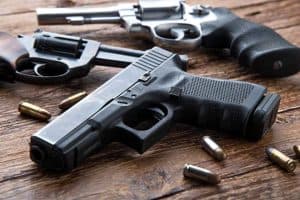 Step-by-step process
First thing first, you have to know at first that what you have to do to remove gun bluing. Here is the best way to remove gun bluing in the step by step –
Disassemble your gun
At first, you have to separate all the parts of your gun. Obviously, before moving you have to remove the magazine from your gun. Examine the chamber properly. When you will be sure that the gun is unloaded, remove the recoil spring from your gun along with the barrel bushing.
Clean your gun
After separating all the parts you have to clean your gun. To clean your gun you can use steel wool. Just soak the wool into the oil. And then rub it on every part of your gun. You can use earbuds for small parts of your gun. Clean your gun properly.
Polish the metal
You have to use it in this part sandpaper. With the sandpaper, you have to polish every part of the gun. Unless the old bluing is so harsh, you can use only 400 grit sandpaper. That will be enough to do the work perfectly. But it will be better if you use 600 grit sandpaper after the initial polishing. Actually true to say, your gun will look snazzier with the increased grit number.
Remove the decrease
You have to free your gun now from degrease. You will find in the market some cleaner blaster. You can use them to clean initially. Normally, this type of cleaner contains sodium triphosphate. Then you can use acetone to clean every part of your gun. Acetone will clear all types of dust, oil, and grease.
Use white vinegar as bluing removal
In the market, there is a lot of bluing removal agent. You can simply use those but considering our mother nature, you can use natural mixture like vinegar as bluing removal.
White vinegar is very easy to use and not detrimental to your health. Distilled water with 5% acidity is the basic mixture of white vinegar. This mixture works best as gun bluing remover.
At first heat the finger up for 110-degree Celcius. Pour the vinegar in a glass bowl. Now, put all the parts into the bowl. Don't put all the parts together. Put two or three big parts together for at least 20 minutes. Then put the parts into a towel. Wipe down to dry the parts. Then again go for other parts also.
You will see that every part after 20 minutes will have seemed like an orange-brown. After wiping you can set the same parts back into vinegar again for 10-15 minutes for perfect blue removing.
After finishing all the parts you can rub the parts with steel wool to remove the rust. It will better that if you apply some gun grease at the last moment. For understanding how to measure shotgun choke size read this guide.
Final words
There are several types of bluing removal in the marketplace. But as if you know now how to remove gun bluing, it should be clear to you that gun bluing removing contains such importance to remove bluing. You should buy a good one considering your budget. That's all I want to say about an easy way to remove gun bluing! Best of luck!
You can read our other related guides like shotgun recoil pad, best choke for dove hunting, best choke for sporting clays, best 2 man ladder stand, etc.